World of Hemp

HEMP BILL INTRODUCED
New Hemp Bill Introduced in US Senate
A bipartisan group of senators has introduced a bill that would exclude industrial hemp from the definition of marijuana. The bill, if passed, would get around the DEA's refusal to differentiate hemp from marijuana and could result in American farmers being allowed to grow the industrial crop.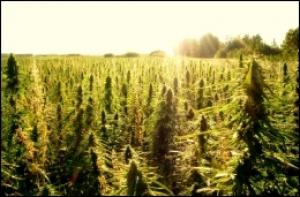 The bill,
Senate Bill 3501
, was introduced last week by Sen. Ron Wyden (D-OR) and cosponsored by Sens. Rand Paul (R-KY), Bernie Sanders (I-VT), and Jeff Merkley (D-OR). It would amend the Controlled Substances Act to make clear that hemp is not a drug, even though it is part of the cannabis family. Hemp has much lower levels of THC than marijuana grown for recreational or medicinal purposes.
The bill marks Wyden's second attempt this year to get hemp de-listed. He tried to offer an amendment to the farm bill the Senate passed in June to do just that, but the Senate leadership ruled the amendment was not germane.
"I firmly believe that American farmers should not be denied an opportunity to grow and sell a legitimate crop simply because it resembles an illegal one," Wyden said. "Raising this issue has sparked a growing awareness of exactly how ridiculous the US's ban on industrial hemp is. I'm confident that if grassroots support continues to grow and Members of Congress continue to hear from voters then common sense hemp legislation can move through Congress in the near future."
The bill has been referred to the Senate Judiciary Committee.
Meanwhile, another hemp bill,
House Resolution 1831
, which would also clarify that hemp is not marijuana for the purposes of the Controlled Substances Act, languishes in the Republican-controlled House.

GETTING REALISTIC
The Rutland Herald
August 8, 2012 Opinion/Letters

Getting realistic about petroleum

Emily Peyton's letter (Breaking free of oil cartels, Rutland Herald, July17) writes that the "Peyton for Governor team have developed the Vermont Pledge: Off of oil in 5 and all organic in 5." She adds that "We ask Vermonters to imagine all the medians growing hemp and every yard with a raised garden bed, every school with apprenticeship programs from grade school." Ms. Peyton wants voters to know "how hemp factors so heavily in our petroleum-free future."

What petroleum-free future?

Does Ms. Peyton or anyone on her campaign team know that petrochemicals have a vast variety of uses beyond fuel consumption? While one 42-gallon barrel of oil does create about 20 gallons of gasoline, over half of the barrel is used to make roughly 6,000 different products, including food packaging, cosmetics, medicines, prosthetics, house wares, fabrics, construction materials, sports products and toys, just name a few.

As a long-term hemp activist I am well aware of the incredible uses of the hemp tree. Overturning industrial hemp-prohibition is the sensible and necessary thing to do. But Ms. Peyton's "get 'er done" campaign pledge is not a realistic proposal that a governor would take before the Vermont people, much less the state legislature.

Calvin Coolidge, born in Windsor County, Vermont, once said, "The chief business of the American people is business." Not much has changed in that regard. While idealism is good for campaign slogans, we need a governor who can understand that industrial-hemp should play an important role in the future of Vermont's industry and be able to rationally convince the legislature to make it so.

Vidda Crochetta
Brattleboro

Activist Protests By Harvesting Cannabis Inside Giant Cage In Front Of White House
David Bronner, the CEO of Dr. Bronner's Magic Soaps, began a demonstration Monday inside a large steel cage in front of the White House to protest federal policy that bans U.S. farmers from cultivating industrial hemp.

"The industrial hemp plants I am harvesting and processing into oil cannot produce a high of any kind, but according to the Obama Administration I'm in possession of approximately 10 pounds of marijuana," Bronner said in a press release.

Even though the hemp plants contain no drug value, industrial hemp is illegal to cultivate in the United States. Bronner is protesting the administration's conflation of the recreational drug with a plant that has multiple industrial uses. For instance, the oil pressed from hemp seed contains high amounts of the omega-3 fatty acid.

Bronner plans to stay in front of the White House until he finishes harvesting the hemp seed from the plants and pressing the oil, which he hopes to serve on hemp bread to the public.

Bronner is enclosed with the plants and equipment in a locked, steel bar cage to prevent interruption by police until the entire harvesting and pressing process is complete. But as of 10:05 am EST, a police officer threatened to cut off the lock and arrest Bronner from inside.

The same officer has also threatened to charge Bronner with multiple felonies should one of the officers injure themselves while attempting to break into the cage.

There may not be any Shiba Inu puppies, but you can check out the drama unfold below, via UStream:

UPDATE: The live streaming video has gone off-air as police attempt to break into the steel cage.

UPDATE, AGAIN: Firefighters were called in to cut through the metal bars. Bronner was arrested shortly after police were able to enter the cage.
Last Updated (Thursday, 14 June 2012 16:43)

DENYING BENEFITS OF HOME GROWN IN THE USA
The audacity of denying the benefits of home-grown industrial hemp to the American economy
from WIP News Service
The world standard
"Hemp is the standard fiber of the world. It is used to produce more than 5,000 textile products, ranging from rope to fine laces, and the woody "hurds" remaining after the fiber has been removed contain more than seventy-seven per cent cellulose, and can be used to produce more than 25,000 products, ranging from dynamite to Cellophane." Popular Mechanics, "Billion Dollar Crop", 1938
The crop is grown in all industrialized nations except one.
European Union subsidizes industrial hemp.
Canadian farmers have been allowed to plant industrial hemp since 1998.
"Hemp was one of the first crops that Champlain planted at Port Royal and later Québec." Canadian Hemp Trade Alliance (CHTA)
Over 8,500 acres were grown in Canada in 2008. Hempfarm.org
The 2002 figures for global hemp sales were US$250 million. $150 million in the United States alone. Hempfarm.org
The U.S. is Canada's primary buyer of industrial hemp. Canadian National Industrial Hemp Strategy
"China controls about 40 percent of the world's hemp fiber." NT
The same, but different
Hemp and marijuana are different varieties of the same plant species, Cannabis sativa.
Smoking marijuana produces a "psychoactive high" while smoking industrial hemp, which contains high amounts of CBD, causes "headaches, nausea, and a heavy, stupid feeling."
"If hemp pollinates any nearby marijuana, genetically, the result will always be lower THC marijuana. Marijuana grown close to industrial hemp will produce lower-grade marijuana." North American Industrial Hemp Council (NAIHC)
"No one would hide marijuana in a hemp field. Marijuana is grown widely spaced to maximize leaves; fiber hemp is grown tightly-spaced to maximize stalk. It's also the first place the cops would look." Andy Kerr
Since Congress passed the Controlled Substances Act of 1970 humping industrial hemp in with marijuana, the DEA has been unable to differentiate between the two.
It is not illegal to grow industrial hemp in the United States; the DEA just refuses to issue licenses.
It's easy to grow
Hemp is easy to grow "in a variety of climates and soil types," is "naturally resistant to most pests", and doesn't require much in the way of fertilizers.
Hemp prefers a mild climate, humid atmosphere, and a rainfall of at least 25-30 inches per year. "Industrial Hemp: A Cropping Guide For Farmers", Peter Dragla
Eastern Washington is on "the same latitude as Romania, which is a prime source for industrial hemp. " Jill Smith, EarthGoods LLC
Industrial hemp was grow on the Palouse. "Marijuana and Hemp: The Untold Story" Thomas Bouril
Better than cotton
"Hemp fibers are longer, stronger, more absorbent and more mildew-resistant than cotton." NAIHC
"Fabrics made of at least on-half hemp block the sun's UV rays more effectively than other fabrics." NAIHC
"Fifty percent of all the world's pesticides are sprayed on cotton." Hemp can replace cotton. NAIHC
Hemp is anti-microbial, anti-mildew, naturally UV resistant and readily takes on eco-safe plant-based dyes. Efforts Clothing, Ontario; BuyFabricsDirect.com
Hemp softens with each washing, without fibre degradation. As the saying goes: "Hemp doesn't wear out, it wears in." hemptraders.com
Hemp is 4 times warmer than cotton, 4 times more water absorbent, has 3 times the tensile strength of cotton. It is also many times more durable and is flame retardant. The Emperor Wears No Clothes, Jack Herer
Hemp breathes well and wicks moisture away from the body better than cotton. Efforts Clothing, Ontario
Better than wood fiber
In 100 days on one acre of land, hemp can "produce the same amount of paper" that four acres of trees produce after 30 years. U.S.D.A.
"Hemp can be pulped using less chemicals than with wood. It is naturally bright and so processing it doesn't require chlorine bleach nor produces dioxin. NAIHC
Hemp paper is stronger, acid free, has a longer shelf life, and costs less than half as much to process as tree paper. "Hemp Through History" ecomall.com
Hemp paper can be recycled 10 times whereas wood-based paper can only be recycled twice without losing integrity and requiring additional virgin fibre content. "CROPS:Cotton, Hemp, Flax and Kenaf", oldgrowthfree.com
Good for the environment
Hemp is a renewable, reusable and recyclable resource.
Hemp is the number one biomass producer on planet earth: 10 tons per acre in approximately four months.
"If hemp fibre is processed into durable, long lasting products, the carbon captured will be retained for the lifespan of the product. For these reasons, hemp could emerge as very important in addressing issues of planetary climate change by acting as a carbon sink: in both the field and in finished industrial and consumer products." CHTA
Hemp helps clean up soil by bonding heavy metals to the fibre.
Hemp actually revitalizes the soil it grows in, both by aerating the soil and through the deposit of carbon dioxide in to it.
"Hemp has also been used as a plough down or green manure crop to add organic matter to the soil." Just Live Greener
Why use up the forests which were centuries in the making and the mines which required ages to lay down, if we can get the equivalent of forests and mineral products in the annual growth of the fields? I know from experience that many of the raw materials of industry which are stripped from the forest and the mines can be obtained from annual crops grown on the farm. - Henry Ford
Some other uses
Hemp cement, made from mixes of core fibre and minerals such as lime and sand, is superior in insulation values, strength, and breathability.
Hemp seeds are pressed for oil that can be used for food, industrial lubrication, diesel fuel, paints, varnishes and more. Hempfarm.org
Economic benefit
"Making hemp cultivation legal would funnel millions of dollars spent on imported hemp back into the ailing U.S. economy." Natural Home Magazine
Biodiesel from hemp reduces the United States' dependence on foreign petroleum.
With a North American market that exceeds $300 million in annual retail sales, industrial hemp could generate thousands of sustainable new jobs, helping America to get back on track. Dara Colwell
The bulk and weight of hemp make transportation costs high. Hemp production cannot be centralized as production needs to be decentralized. To be profiable, hemp needs to be processed within 25 to 50 miles of where it has been grown. Center for Business and Economic Research, U of Kentucky
"Restoring industrial hemp agriculture will return control to our farmers, and away from the multinational corporations that dominate our political process, usurp our economic resources, and destroy our environment." D. Paul Stanford, Hemp News
Last Updated (Thursday, 14 June 2012 16:38)